Reimagining the Region:
Building a New Detroit Metropolis
Thursday, September 15, 2011, 6 - 9 p.m., Emagine Royal Oak Theatre, Royal Oak, Michigan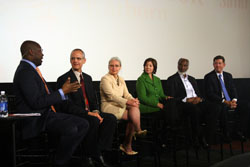 Approximately 205 citizens and community leaders came from Detroit and surrounding suburbs to the Emagine Royal Oak Theatre to view The New Metropolis and engage public officials in a dialogue.
A range of both suburban and urban civic, church, municipal organizations, legislators, university students, and seniors—black, white, and Hispanic— participated for the first time in a lively conversation about how regional collaboration was key.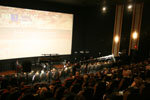 Detroit Free Press Editor Steven Henderson moderated the lively conversation with a panel and the audience. Detroit Public Television brought their hi-definition truck and multiple cameras to capture and stream the event live.
Key themes covered were the similar challenges between Detroit and its older suburbs, as well as strategies to collaborate on key issues: overcoming the legacy of segregation, equity, housing, transportation sustainability and economic development.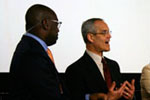 Panelist and Rev. John Hice, Senior Pastor at First United Methodist Church in Royal Oak: "Our metropolitan area is a community and we belong to each other. What happens to somebody on the south side of Detroit matters to somebody who lives in Royal Oak."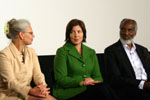 Panelist Melanie Piana, Ferndale City Councilwoman: "How we grew in the past is not how we grow and build a prosperous future...cities in Michigan are trying to revitalize and regenerate into something where those millenials want to stay. It would be awesome if we could overlay that with a great transit system."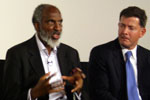 Panelist Dr. john powell, Executive Director of the Kirwan Institute for the Study of Race and Ethnicity at The Ohio State University: "You need people stepping up to say, yes, that might mean that your neighbor will be of a different race than you."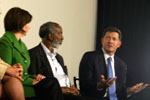 Panelist and State Rep. Jim Tonwnsend, 26th House District, invited participants to join SEMCOG, "The Southeast Michigan Caucus is all about getting Democrats and Republicans to recognize that we share one economy and we've got to make those smart investments in our infrastructure, in our education systems, in protecting our natural resources."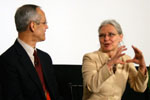 Panelist Dr. Karen Majewski, Mayor of Hamtramck and Vice-President of the Michigan Municipal League: "We need public policies that redirect resources to the inner ring suburbs and to inner cities and that stops favoring the exurbs. It's as simple as that."
Jim Townsend summarized the overall mood of the event, "I enjoyed the open floor Q&A. I am leaving more inspired to continue the issue."
Reimagining the Region has already generated follow-up activities: Representatives of 19 municipalities, civic organizations, and student groups stated they want to host a follow-up screening or event.
Read more about the event in an article by Working Film's Robert West...
Unable to watch the streaming event? You can download the transcript of the event here.
Audience Comments
"I'm intrigued by the fact that this event, which addresses the city and the metropolis is being held in a bordering suburb, which I think is a very positive sign for the intentions for collaboration."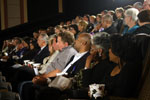 "I think this was very useful in beginning a much-needed dialogue! This was useful in making people realize the problems we face here are regional."
"I liked the move that the documentary showed, which was unity. Get to know your neighbors."
"We need to not repeat the past, but to envision the future and work toward the new reality."
This forum is part of The New Metropolis national civic engagement dialogue series on revitalizing America's older communities. It is made possible through the generous support of the Ford and Surdna Foundations.